SNOW WHITE
SUNDAY, MAY 5, AT 1:30PM AND AT 3:30PM
Lafayette Ballet Ballroom
226 N. 6th Street
TWO WONDERFUL PERFORMANCES BY JOYOUS DANCERS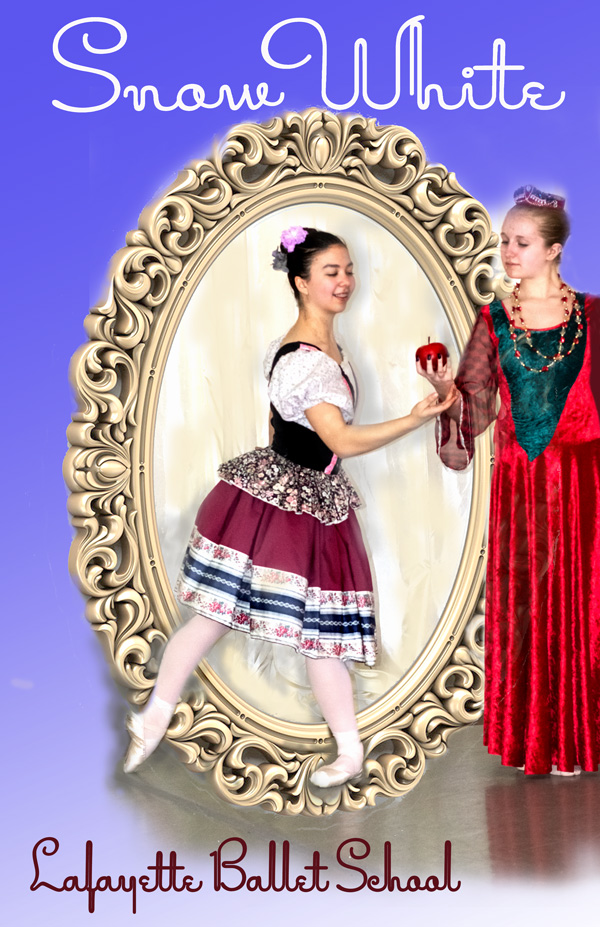 PREFERRED DANCE ATTIRE IS AVAILABLE AT
www.enchantedpointe.com
Information for the ENCHANTED POINTE. 226 N. 6th Street. 765.404.8560
website: www.enchantedpointe.com

MANDATORY DRESS REHEARSAL: May 4 - 1:00-3:00PM
Dress REQUIREMENTS: Lafayette Ballet School uniform (white sleeveless leotard_white short chiffon skirt_pink tights_pink shoesCLEAN) - available at the Enchanted Pointe 226 N. 6th St. : Boys, White fitted shirt, black tights or bike pants, white socks white or black shoes. Ladies Hair in bun, no frizzes, no bangs. No makeup needed.

Two performances are given to allow you all to view this in the ballroom. Five tickets are available for each dancer to use as you wish reserving for either performance. These are not interchangeable. We need to verify numbers for occupancy limits in our ballroom. You will be close, your young dancer will be aware that you are there and encouraging and you will be able to view the progressive strengths of the classes and developments of these young performers. If you wish video footage or photos this MUST BE DONE ON MAY 4. NO VIDEO OR PHOTOS WILL BE ALLOWED DURING THE PERFORMANCES ON MAY 5. This presentation is to develop the communicative and expressive talents of young performers - not solely for your personal video collection.

This is a totally new presentation, so it very important that all of the students attend Dress rehearsal which will finally put together the separate pieces that have been rehearsed during class times. Dances have been choreographed for the occasion to best suit the age and talents of our various classes:

Creative Dance: Rabbits in the Forest
Dance Basics: The voices of the Magic Mirror
Fundamentals 1 - Milkweed seeds
Fundamentals 2 - The enchanted corset strings
Beginning 1 and 2 (Tuesday) - Courtiers
Beginning 1, 2, 3 (Wed) - Dwarves
Beg3/El.1 Monday - Waltz of the Leaves
Beginning Pointe: Angels at Snow White's Tomb

I will you remind you that this presentation is entirely voluntary, and there is no charge for the performances, no charge for our extra rehearsals and preparation. There are NO exceptions for special events, or special people regarding attendance and the times of dress rehearsal and performance. We simply need everyone in full cooperation to put together a cohesive program for your enjoyment. If there are conflicts to your personal schedule we will gracioiusly excuse your dancer from participation.

The classes themselves continue through the month of May until May 24. Only the Creative Dance class terminates with the recital. These are important classes to assess progress and to encourage continued enthusiasm for the technique. They will be open for observation and explanations the last 2 weeks of the semester. In this way you will understand your dancers' progress without needing to turn the recital day into an examination/demonstration.


FOR HELP WITH HAIR PREPARATION: 2 VIDEOS:
FINE HAIR
THICK HAIR