REGISTRATION FORMS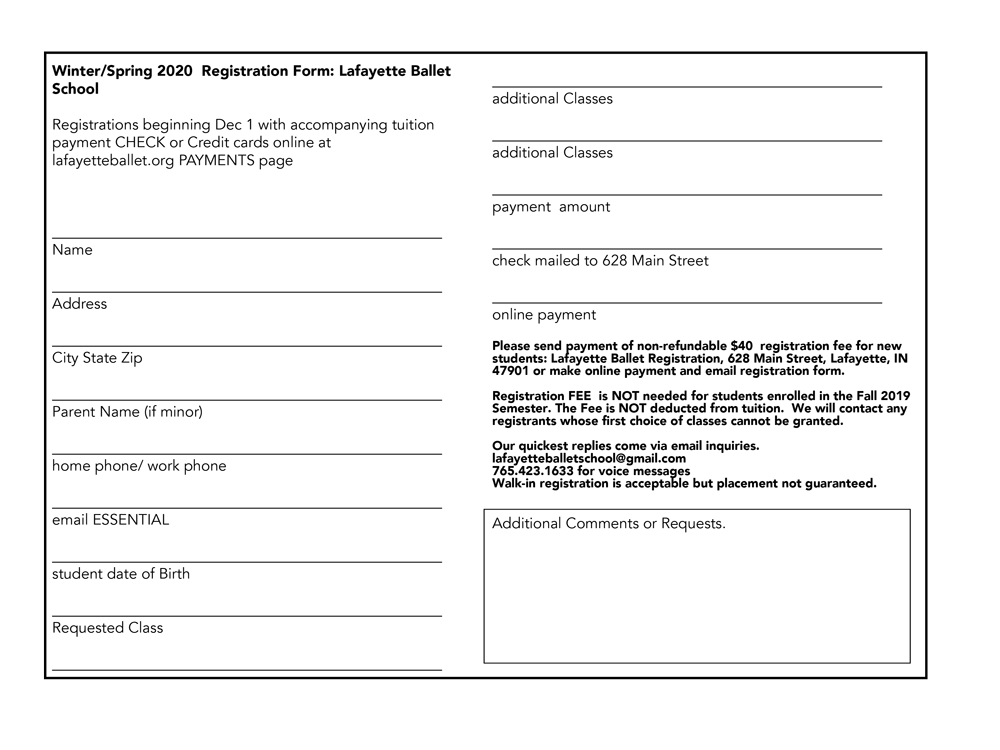 Please link here for the
Downloadable Fillable Registration Form
.
You need to use Adobe Reader to ensure that the completed form is saved as you wish.
Download AdobeReader
Several current browsers allow you to view the form, but will not allow the filled information to process. Once you have saved this form with the information embedded, use your student's name as a title and rename PDF file. You can email the PDF document back to our email:
REGISTRATION email
You can pay the $40 Registration Fee
ONLINE
, or mail us a check. Returning Students from the Fall 2019 Semester are NOT required to pay this fee.
The postal mailing address is Lafayette Ballet Registration, 628 Main Street, Lafayette, IN 47906.
Thank you.
Adult:
Adult/Teen Classes are available in ballet. A class card is available for purchase at $62 for 5 hours of class or $115 for 10 hours of class time. 75/90 minute classes are marked as 1.5 hours. Please come to the registration desk, or have the instructor mark the card before class. The adult dress code is less strict, and adults are encouraged to wear close fitting dance wear but follow their choices for color and decorum. Proper shoe wear is essential. You can pay per class or by class card. Those are available when you come in at the 628 Main desk.
LBS Policies:
1. Our goal is to provide the best possible training in a positive atmosphere.
2. Students will NOT be permitted to enter class if they arrive anytime 10 minutes after the start time. The tardy arrival negates the progression of physical and mental concentration by others. It also misses the crucial focus and warm-up for that student. There are alternate days in which these classes can be made up.
3. Instructors reserve the right to dismiss any student from class due to unruly behavior, or refusal to work within the structure of the class.
4. Parental observation in studio B is limited to the window. The window will not be open at all times. Class dynamics vary. Some classes are extremely disturbed by visitors at the window. We reserve the right to close observation at the window by drawing the blinds at any time.
5. Classes held in studio A are hindered by clients speaking loudly, children running in the hallway, playing the piano or keeping the door open during cold weather. Respectful observation at the front of the studio is available at all times, and allows children and their parents to observe the role models of the older students.
6. Parental disagreement with our instruction should be limited to private consultations and not done in front of the other clients or students.
7. There are no refunds on prepaid tuition. If you are unsure of our working methods we encourage you to observe a class before enrolling. If you are in some way unsatisfied with the student's progress later in the semester, it does NOT entitle you to a refund of tuition. Our instruction remains what it is, and the way each student reacts to this training is personal.
8. LBS is not a preschool. Classroom etiquette, the ability to wait for a turn, and the respect for others in the classroom is essential. Please work with your child in the awareness of these aspects of the dance training as well as the actual dance knowledge which is presented.
9. Parents, siblings and friends of students are asked to have the same respect within the waiting area. That includes clean up of toys if they were used, correct disposal of liquids in the restroom sinks rather than in the trash, and supervised use of the restroom areas and hallways for very young children.
10. The lost and found shoe supply is for emergency use only, not to replace the proper equipment which should be purchased for each child.
11. All students are asked to observe the dress code. A color coded leotard is used for all students.
12. All students are asked to have their hair securely fastened away from their faces so that it does not fly into eyes. Beginning 1 and higher girls are required to put their hair in a bun (or short hair in a ponytail). This includes bobby pins or barrettes to keep loose strands out of the face. Please adhere to our very generous dress code policy.
13. If a parent does not remain with the student please be sure that we have all correct contact information, and that you arrive promptly to pick up the student. If an unusual circumstance prevents this, please call the desk: 423-1633 immediately. Students leaving the building should be dressed in STREET attire with the body appropriately covered and street shoes. This is a downtown business district.

14. Please be stingy with your germs. Children are very generous, and the ballet barre is a favorite party place for unattached germs. If a student is not feeling well, please keep the student home. Dance training requires more physical and mental alertness than a normal school day. Make-ups are available.
15. We are not staffed during the normal work day hours. You may leave messages at 423-1633, but the secretary does not come in until 4 PM Mon, Wed. and Thursday, and 5 PM Tuesday. Saturdays, the desk is open from 9:15AM - Noon. You may also leave email messages from the web site at www.lafayetteballet.org
16. We accept all methods of payment: cash, credit or debit, and personal checks.