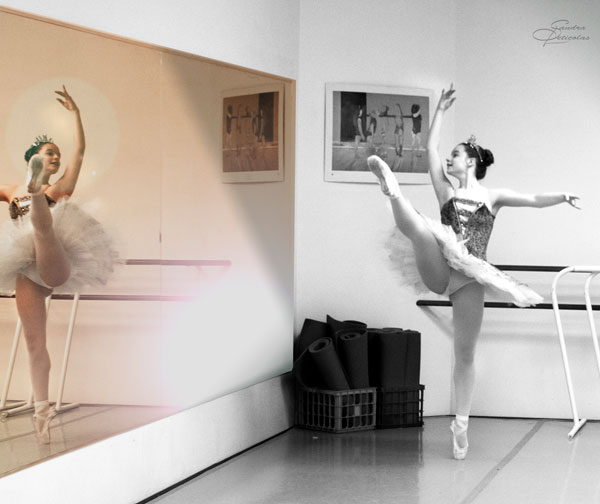 SUMMMER COMES - even in COVID isolation. Let's make the best of it.

Faculty Lisa Douglas, Nicole Brooks, Makenna Dejoie, and director Sandra Peticolas will be on hand to unleash the new, the old, and the what you never imagined. Summer classes are open to all at level DANCE BASICS and up. Please contact us if you are a new student.
NOT WHAT WE PLANNED - BUT WE ARE VERSATILE. "MAKE IT WORK." THE MANTRA FOR A DANCER. SO ZOOM it is. All classes take place on our virtual platform and your real shelter-in-place location. Please try to find a place that works.

These classes are available in the same evening slot in which we have been operating. Summer days are clearly for the wonder of childhood, so we hope that by late afternoon, students will be willing to be in the cool quiet of the house, and get back to ballet.

Our theme this year for our summer work is the ballet Coppelia. It is a lively, musically rich, and very down-to earth ballet. We are especially working on the context of MIME and the ability to be doll-like in movements. This is not as easy as it seems, because the abrupt and quick movement must alternate with pause and control. We are planning some fun activities - design, coloring, experimenting with movements, and spotlighting our progress so we can perform for each other.

The schedule is mapped out as:
Monday, Wednesday, Friday - Beginning 1 through Company Advanced. Depending on the numbers who come, we will potentially split into levels. - in Cyan Blue on the schedule
Tuesday, Thursday - Dance Basics, Fundamentals 1 and Fundamentals 2. In PINK on the schedule.
The sessions are in blocks of either, 60, 75 or 90 minutes. All you need to do go to our online payment portal and pay for the number of classes you wish.
There are 2 payment types on the page: one is for COMPANY and TRAINEE only. Those older dancers know who they are. Everyone else does the regular payment.
If you decide to join a class at the last minute, you will need to contact us to get the meeting and number. Those who have purchased online will automatically be sent the correct meeting times to the email address attached to your credit card payment.

We will run June 1-5, and June 8-12. If there is still demand after that - we will do what we can to keep you engaged. You will receive the specific ZOOM meeting information for your class if you have contacted us.

Tuition Costs: $10 per class session. PAYMENT PORTAL

.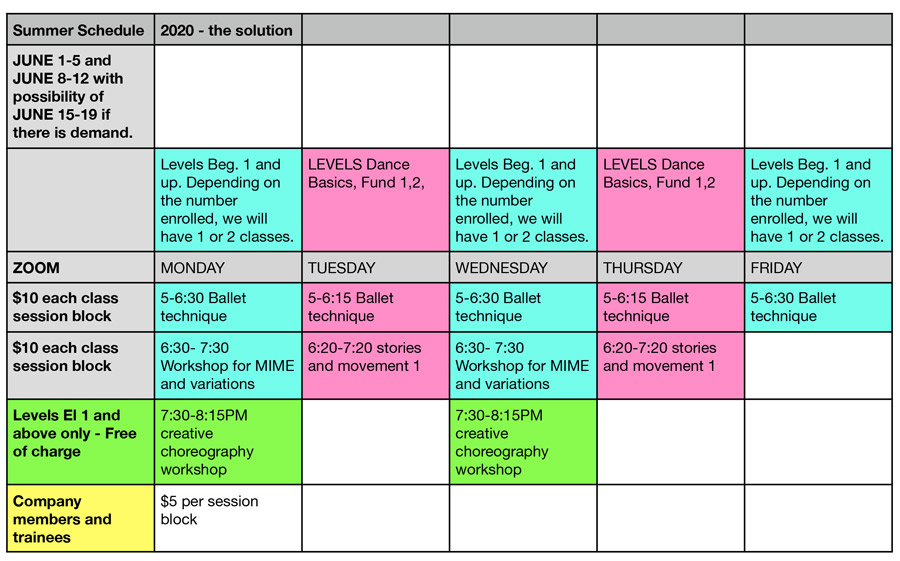 Please email us if you have any questions. We hope to see you there.

email or text 765.714.2489 if you have questions or concerns. We will get back to you!