Lafayette Ballet Company is a small pre-professional group of committed young dancers. We concentrate on teamwork, performance integrity, and enhancing classroom skills with challenging new works, traditional repertoire and pieces tailored to showcase the talents of our current dancers. For 30 years pre-pandemic we have presented an annual full length Nutcracker. The future is uncertain in the arts. Fewer people are willing to commit to the schedule of training and involvement. We nurture the talents and aspirations of those who do. Lafayette Ballet is a registered Not-For-Profit 501(c)3 organization in the State of Indiana. Donations are tax-deductible to the extent allowed by law.
If you are interested and able, please DONATE
HERE
:
Please feel free to reserve and to come to our open WINTER Performance: YULE DANCES. DEC. 20 and DEC. 21, 2023 at the Ballroom - 226 N. 6th Street. 7:30PM. This is a performance of three works - and lots of love for what we do Reservations for limited seating is available. EMAIL RESERVATION
REQUEST
: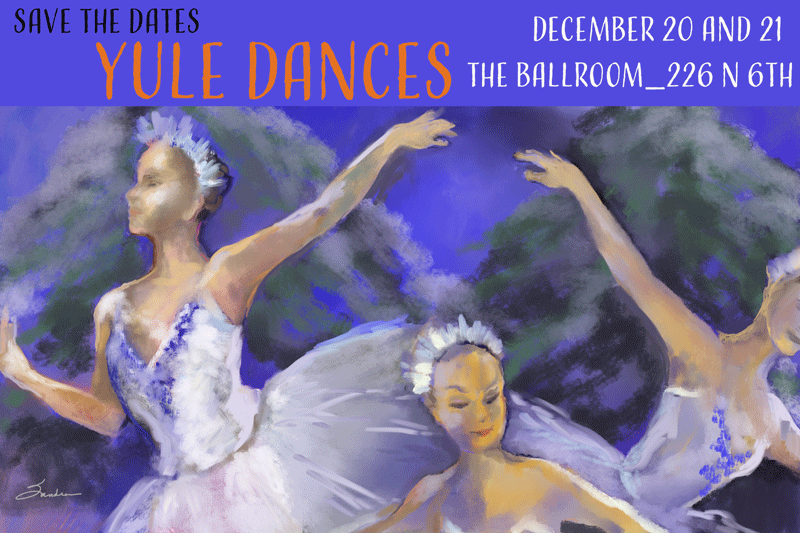 ABOUT THE PERFORMANCE:
THREE BALLETS:
LOUISE'S NOTEBOOK (20 MINUTES) - Louise Farrenc was a 19th century French composer and the only female to be admitted to the faculty of the Conservatoire in Paris during the century. She wrote amazing symphonic, chamber, and piano pieces which have been largely forgotten due to her famous contemporary male counterparts and the attitude that a woman simply couldn't produce a true work of art. This is a whimsical look at her creative process with her "notes", naughty little children, who constantly disrupt her peace and creativity.
THE ENCHANTED FOREST (10 MINUTES) - The most glorious piece of music from Tchaikovsky's Nutcracker ballet is the "snow scene" where the snowflakes come alive and entertain Clara and the etherial voices of children sing the melody admist the orchestration. A piece of the ballet repertory that lives forever.
YULE DANCES (20 MINUTES) - The fading of the year, the shortening of the day, and the hope for renewal bring a host of traditions. The early kindling of the Yule log, and the decorating of the simple hearth with greenery was wrapped into Christian holidays in the late Middle Ages and early Renaissance. This piece is an exploration of the many celebrations from the British Isles, France, Spain, and Germany that lift our spirits in the darkest of times.
Make your reservation
REQUEST
Hope to see you at the celebration.