Lafayette Ballet Faculty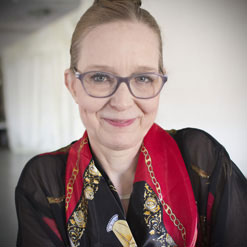 Director, Sandra Peticolas is the creative and driving force to the existence of Lafayette Ballet. The care and vision to cultivate a pre-professional school and performing company has been her priority since moving to Lafayette in 1986. Ms. Peticolas grew up in NJ within the scope of the New York professional dance scene, and its demands for dedication and excellence. She studied at American Ballet Theatre School in NYC under such legendary teachers as Valentina Pereyaslavic and Patricia Wilde. She received a BA in Dance with Highest Honors from Butler University in 1976 and was privileged to work under the Renaissance talents of George Verdak. Mr. Verdak's traditional values in choreography, theatre and presentation, and his rich heritage from the Ballets Russes shaped her esthetics of production. Ms. Peticolas danced professionally with Chicago Lyric Opera, American Dance Ensemble, Pittsburgh, and Virginia Ballet. She continued her studies in Pittsburgh with Mary Petrov and Kenneth Johnson, and in Philadelphia with Pennsylvania Ballet. She began teaching at Point Park College in Pittsburgh in 1977 in the Pre-Professional and College divisions. Blessed with a serious group of young students who came daily, she was able to hone her teaching skills in an ideal environment. She also was able to embark on her true love of choreography. From 1980-1986 she taught and choreographed for Virginia Ballet School and Company under the outstanding direction of Oleg Tupine and Tania Rousseau. In 1988, two years after relocating to Lafayette, she opened the school, and in 1989, formed Lafayette Ballet Company as an outlet for the growing talents of the dancers here. Ms. Peticolas has continued her fascination with the teaching components such as the Vaganova Method at seminars with Jurgen Schneider, and with dynamic muscular control and healthy training methods at seminars by the National Ballet School in Canada. In spring 2009 Ms. Peticolas guest taught at Studio Harmonic in Paris, France. Her opportunities to experience inspiring performances in Europe have enriched her perspecitive, and interest in other cultures, music, art and history color her thematic choices for choreography and the education of her young dancers. Despite the regional isolation of a midwest university town, Ms. Peticolas urges her dancers in outreach opportunities with summer study, masterclasses, performance trips and an awareness of the big picture, so that their respect for their own efforts, and their awe at the incredible level of the professional dance field are equally balanced and nourished.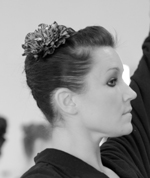 Ballet Mistress, Lisa (Hendrickson) Douglas received her training at the Lafayette Ballet School beginning at age 4 in its first year of classes - 1988. She has extensive training from Nutmeg Ballet School, The Rock School, Pennsylvania, and the University of Cincinnati College-Conservatory of Music. A long-time favorite of LBC audiences, Ms. Hendrickson has had principal roles in the Nutcracker, Beauty and the Beast, Peter Pan, Aladdin, Midsummer Night's Dream, Twelve Dancing Princesses, Air, Earth, Water, Fire, Paquita, Don Quoxote, and Raymonda, Danzas Antiguas, and Farewell. Mrs. Douglas has been on the faculty of Lafayette Ballet School since 2005. She taught at Jefferson High School as artist in residence. Mrs. Douglas has been a competition ballroom finalist, and has choreographed for several theatrical productions: The King and I, Footloose the Musical, The Lion the Witch and the Wardrobe, Charlie and the Chocolate Factory, and for various dance competitions. She holds an Associates degree from Ivy Tech Community College in Computer Design and a BS in Business and Computer from Indiana Wesleyan University. Mrs. Douglas serves as Ballet Mistress with Lafayette Ballet Company. Her eye for the details of the classical repertory have allowed her to set numerous classical repertory pieces and to coach the students as to style and content. Ms Douglas has been instrumental in keeping the school afloat through our COVID isolation year. She is gifted at setting classical ballets and variations from video and encouraging the students to step up to the hallowed traditions of the art form.
WE HAVE BEEN SORELY TRIED DURING THE ISOLATION OF 2020 AND 2021, SO THE FOLLOWING FACULTY ARE NOT CURRENTLY TEACHING, BUT WE HOPE FOR BETTER TIMES SOON.